Quite a number of photos from Day 2, I will try to make them a little easier to look at by describing where they are from first. I do recommend that you read through my (long, yes, I know!) entry on Day 2 first, as it will make it easier for you to know where I went and where the photos are taken.
First three photos, the not-so-fantastic view from my hotel window! :-)
Then I went on a walk through Hyde Park, and took a lot of photos! :-) The last two photos are of my friend the Squirrel, in the Rose Garden! :-)
Then, when I finally managed to make it down to Parliament Square, it was time to photograph again! Photos from Parliament Square and Westminster Bridge, both sides of the bridge.
Photos from the ride on London Eye!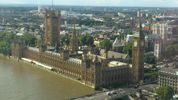 More from Parliament Square:



Photos from Buckingham Palace.



And from St. James' Park.


The amazing man feeding the squirrels and the birds! :-)

And more from St. James' Park - including the cool Pelicans! :-)



From the Horse Guards.




Around Trafalgar Square and Admiralty Arch - note the totally cool sightseeing "bus", LondonDuckTours! :-)



And a very tired Jessica at the hotel room after a bit too much walking, an intense but really great day! :-)