First some photos from my bus-ride - photos from Oxford Street, Oxford Circus and Piccadilly Circus! :-)


Outside St. Paul's Cathedral:

From the Millennium Bridge:

The Tower of London:
LOTS and lots of photos Tower Bridge and Tower Bridge Exhibition! :-)

From the 'Engine Room':


The cool little model of Tower Bridge:



More from Tower Bridge (and the Tower of London) :)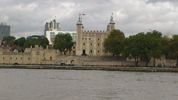 Photos from bus RV1 - first from London Bridge, looking at Tower Bridge - then from Waterloo Bridge, looking at London Eye, Westminster Bridge and Houses of Parliament/Big Ben.

Westminster Abbey - the last photos from the 'cloisters' inside the abbey - otherwise photographing was not allowed.
And finally, my hotel - Orchard Hotel (86-90 Sussex Gardens) - and Sussex Gardens (first photo looking east, second photo looking west):